Throw 2 oranges into a blender, add 8 more simple whole ingredients, and get quick orange muffins with honey (instead of white or brown sugar). Delicious flavor, moist, and healthy - you can't go wrong!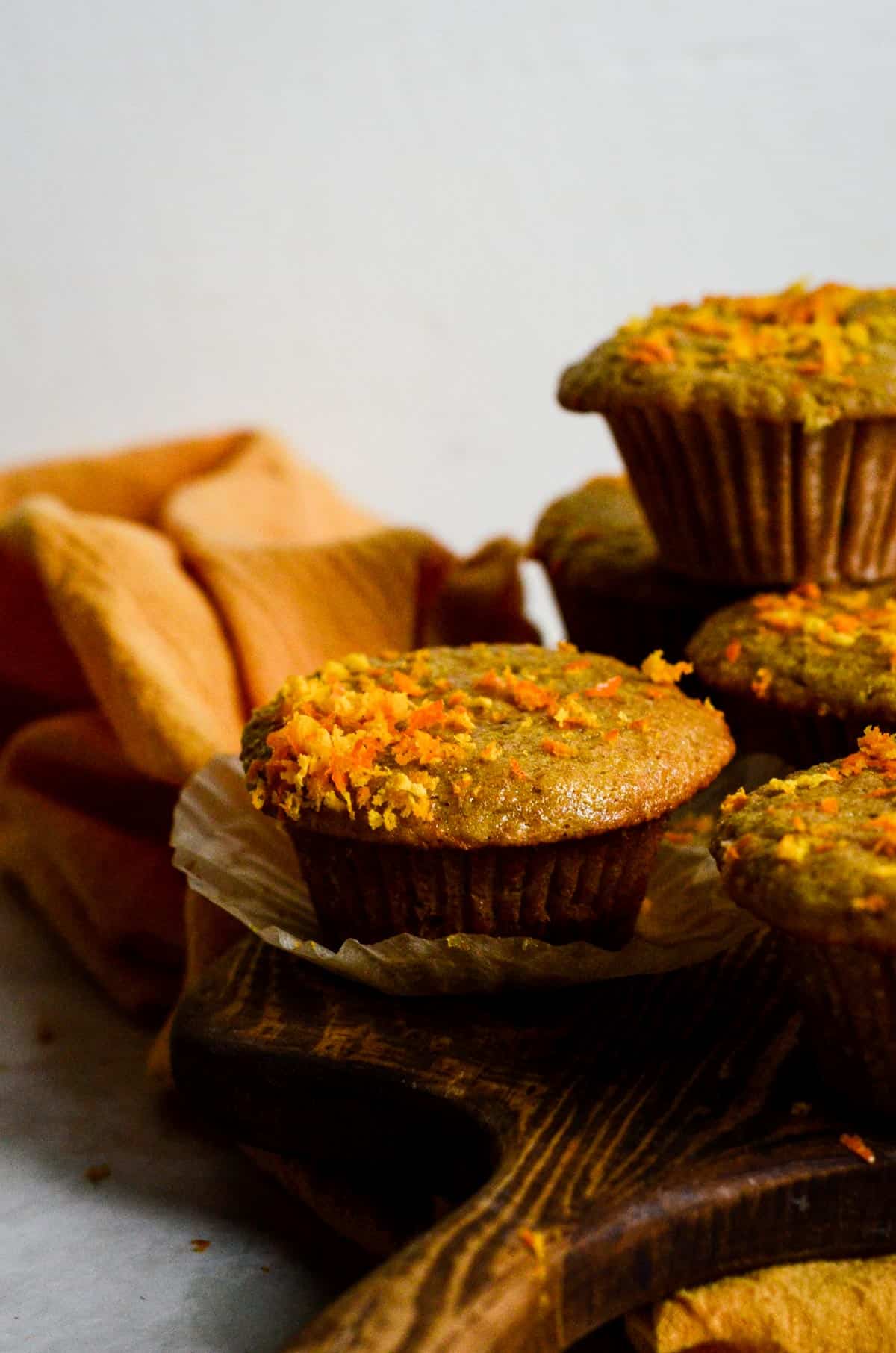 Why I Love This Recipe
This is one of the first healthy recipes I ever made, it was when I was in high school. The first thing I did was replace white sugar with honey. Over the years I have developed this recipe and it's definitely a favorite; I love the creativity and simplicity of throwing oranges in the blender. I cannot tell you now where the original recipe came from that inspired my recipe but I am thankful I came across it 10+ years ago.
Muffins are such a great on-the-go snack! They are easy to prepare in advance, freeze, and have ready when needed! Here's another go-to muffin recipe for healthy whole wheat banana muffins!
Jump to:
Ingredients
9 whole ingredients (as shown below) to make these simple quick orange muffins (10 minutes to prepare)!
Oranges are high in calcium, supporting bone and teeth health. They are also high in vitamin C, folate, fiber, potassium, and many other key nutrients. As the zest is used for this recipe, organic oranges are best as you want to use fruit that hasn't been dyed, waxed, or sprayed with fungicide. If you don't have access to organic oranges and don't feel comfortable using the zest, it can be omitted from the recipe.
Honey is used to sweeten these muffins. I like to use honey as it is a common ingredient we have in our homes that has more nutritional value than white sugar. Alternatively, you could use maple syrup.
Eggs help these muffins rise and stay together well. Having eggs in these muffins increases the volume of protein.
The Coconut oil you will need for these muffins will have to be melted. Oil makes these muffins light and fluffy. Alternatively, you can use grapeseed oil or canola oil.
I like to use whole wheat flour in these muffins as it is less processed than white flour and contains more nutrients such as fiber, protein, B and E vitamins, iron, folate, and more.
Baking soda and baking powder are both used in this recipe!
I use sea salt in this recipe (and many other recipes) as it contains more minerals that benefit the body. (Tip: Watch out for table salt as some brands actually contain sugar!) If you do not have sea salt you can increase the salt to ½ tsp.
Raisins or craisins (also called dried cranberries) are an optional addition! I especially like adding craisins for the flavor combination with the orange, and it's a pretty burst of color too!
See recipe card for quantities.
How to Make Orange Muffins with Honey
Shown below are step-by-step photos to help make this recipe simple for anyone to make. Blending a whole orange is key for texture, but it also increases the flavor, nutrition, and color of these muffins!
1. Place the oranges, oil, honey, and eggs into the blender.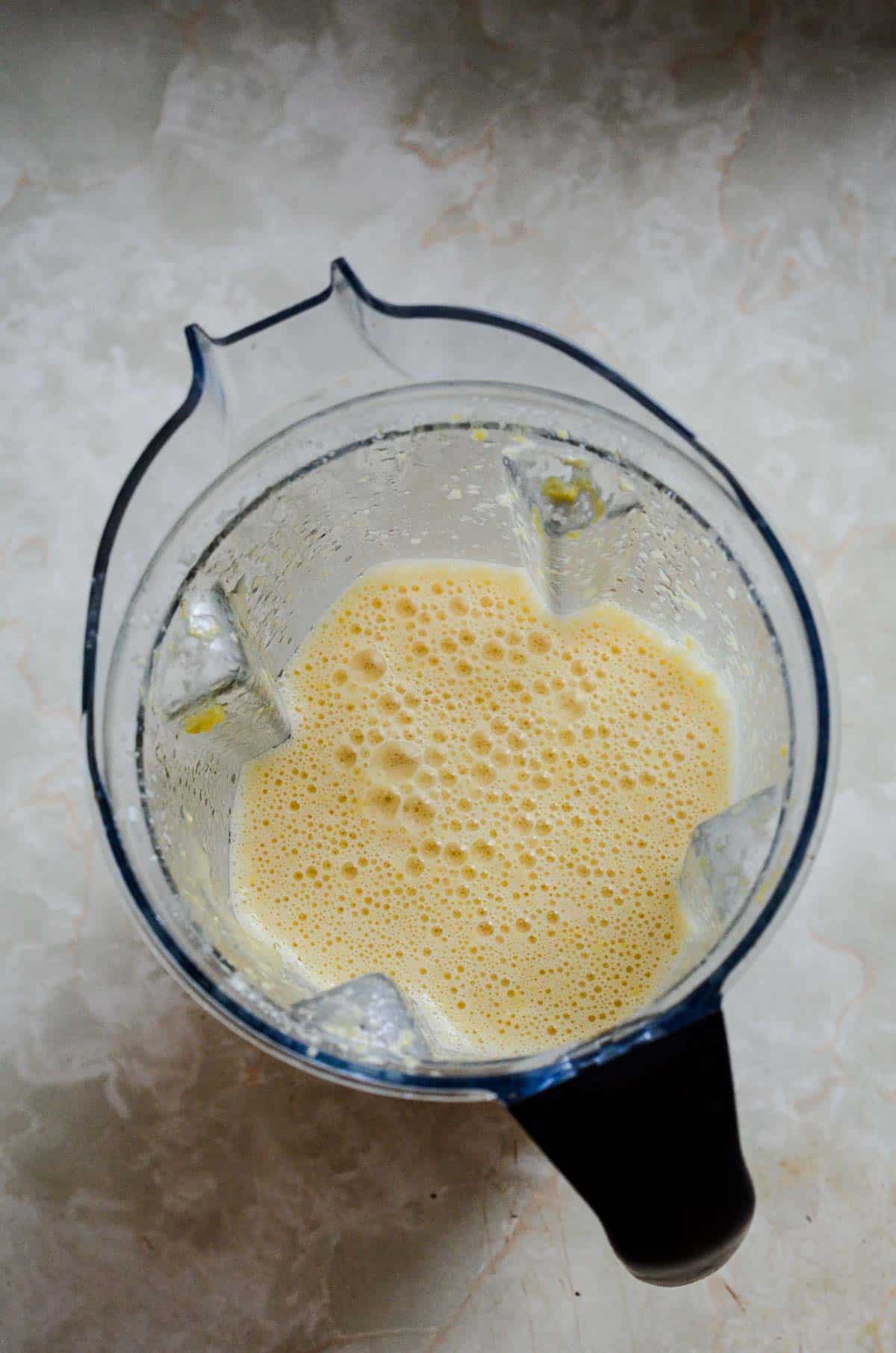 2. Blend until smooth and frothy, 10-35 seconds depending on your blender.
3. Add the dry ingredients and the craisins or raisins (if using). Pulse a few more seconds just until mixed. Don't overmix.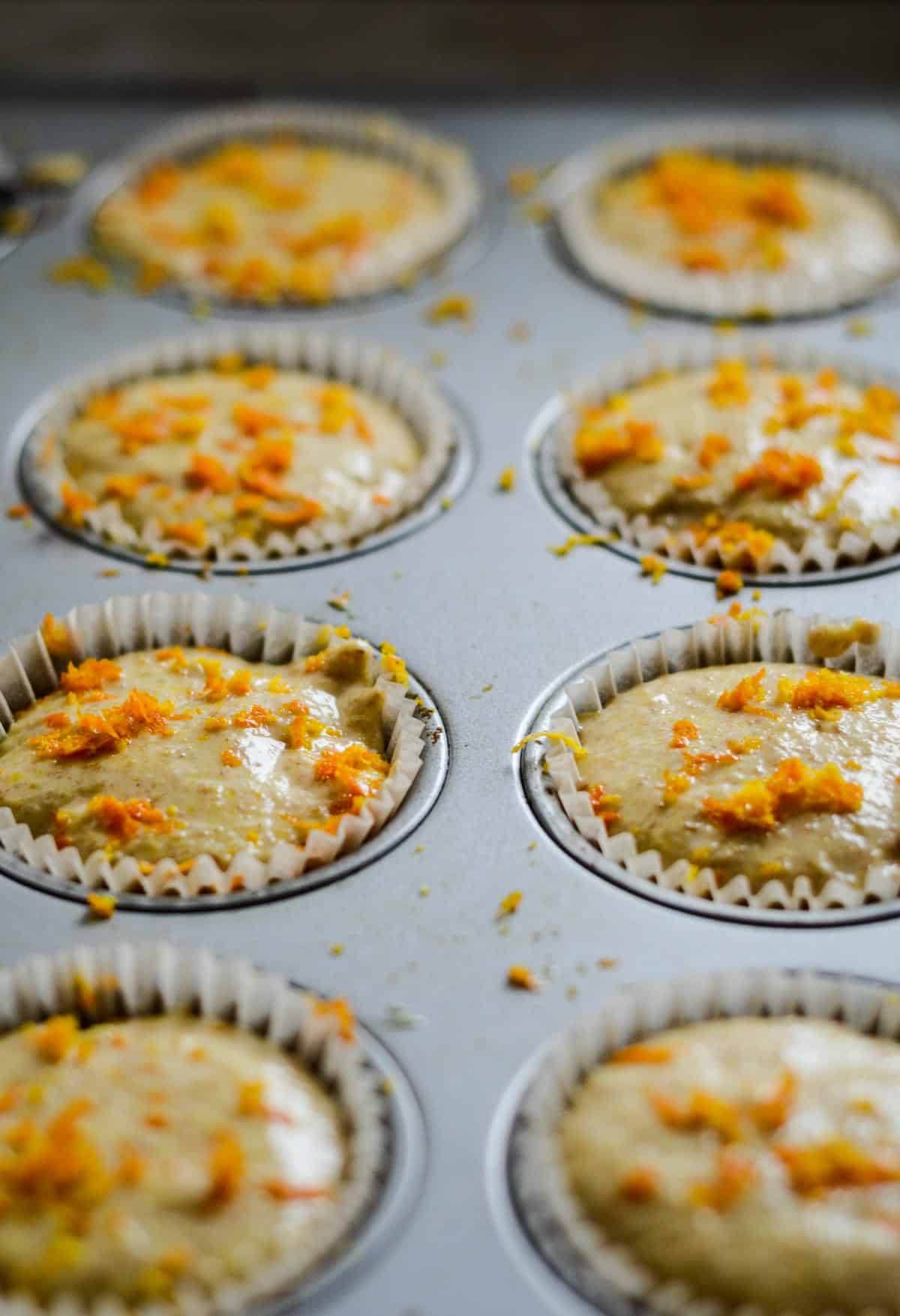 4. Place ⅓ cup of batter into each muffin cup. Sprinkle with orange zest. Place into oven at 375 degrees Fahrenheit for 15-17 minutes. Let the muffins cool in the pan before removing.
Hint: When adding the dry ingredients to the blender, blend only until just combined (about 5-10 seconds). Don't over blend. There may be a few streaks of flour still; that is okay.
Top tip
Adding zest to these muffins after they are baked is not mandatory. However, the orange zest gives a burst of flavor and makes them look even prettier with a pop of ombre orange flecks!
Equipment needed for Quick Orange Muffins
A blender is specifically needed to turn the orange membranes into liquid form. I used a high-power blender for this recipe but a regular blender will work fine too. Alternatively, a food processor can be used.
Note: If you are using a small blender like a bullet, all the ingredients may not fit in the container. In this case, blend the wet ingredients together (oranges, eggs, oil, honey) specifically so the orange is well blended. Then pour this mixture into a bowl, add in the dry ingredients, and stir until mixed.
Muffin liners, some use them some don't, whatever works at your house is fine! If you prefer to skip the liners grease your muffin pan well. I recently learned that many people love these silicon muffin liners and just got myself some! I've been told the key is to also grease these, and if you are having trouble washing them - soak them first.
Storage
Store these quick orange muffins in an airtight container or bag at room temperature for 3-4 days. They will last 1 week in the fridge. Or store them in the freezer for up to 6 months.
FAQ
Why are my muffins flat?
Overmixing the batter makes muffins flat. Blender muffins are inevitably mixed more than traditional muffins (which are made in a bowl and stirred), therefore when adding the dry ingredients to the blender container pulse only a few times until almost all flour streaks are gone.

Skipping a muffin liner and just putting muffin batter into a well-greased muffin tray will increase how much muffins rise.
How do I avoid my muffins from falling apart after baking?

Let the muffins cool in the pan for at least 5 minutes before removing them from the tray. Hot muffins tend to break apart quite easily.
Can I double these orange muffins?
Yes! However, make sure you have a large blender container so all the muffin batter fits.
More healthy snacks
Looking for other recipes like this? Try these:
Looking for an orange muffin without dairy or eggs? Try these vegan cranberry orange muffins!
Enjoy making and eating these orange muffins with honey (no white sugar). I'd love to hear what you think. Leave a comment below and any tips you have for others - that would make my day!
Orange Muffins with Honey (no white sugar)
Blending whole oranges increases the flavor, and nutrition of these quick orange muffins. They are sweetened with honey instead of refined sugars.
Ingredients
2

large oranges

2

eggs

½

cup

melted coconut oil*

1 ⅔

cup

whole wheat flour

½

cup

melted honey

1

teaspoon

baking soda

½

teaspoon

baking powder

¼

teaspoon

sea salt

⅓

cup

raisins or craisins
Instructions
Preheat the oven to 375 degrees.

Start by washing your oranges and then zesting one of them (using a small grater to remove the bright orange part of the peel). Set aside.

Peel the oranges. Then place oranges, eggs, coconut oil, and honey in the blender. Blend for about 30 seconds or until very smooth and liquidly.

Add the whole wheat flour, salt, baking soda, baking powder, and crasins to the blender. Blend only until just combine, about 5-10 seconds. Don't over blend there may be a few streaks of flour still that is okay.

In a greased muffin tray or in muffin liner put ⅓ cup of batter in each cup. Sprinkle orange zest on top of the muffins. Bake for 15-17 minutes, until muffins spring back slightly when touched with your finger. Leave the muffins to cool in muffin pan for 5 minutes before placing muffins on cooling rack to fully cool. Optional: Sprinkle with even more zest.
Notes
*Coconut oil can be replace with grapeseed oil, or canola oil.
Nutrition
Calories:
177
kcal
Carbohydrates:
25
g
Protein:
3
g
Fat:
9
g
Saturated Fat:
7
g
Polyunsaturated Fat:
0.4
g
Monounsaturated Fat:
1
g
Trans Fat:
0.002
g
Cholesterol:
23
mg
Sodium:
145
mg
Potassium:
102
mg
Fiber:
2
g
Sugar:
14
g
Vitamin A:
77
IU
Vitamin C:
10
mg
Calcium:
25
mg
Iron:
1
mg