Going on a long bike ride and looking for the best snacks to fuel you? In this post you will find what recipes you could be eating on bike trips; how to make your snacks nutritious; when to eat; and quick simple snack ideas to bring.
Whether you are out for long training rides, endurance cycling, or going on a bike pack trip, this guide brings clarity on what to consume (even with dietary restrictions) and how to bring in essential nutrients.
Jump to:
What nutrients should I have in my cycling food?
Let's chat about cycling nutrition and what you need to eat for best results in this endurance sport. This covers what you should bring on the ride, but make sure to include these foods in your everyday diet as a biker.
Carbohydrates for longer endurance biking trips are going to be your primary source of energy. You need a big carbohydrate intake. Complex carbohydrates (e.g., whole grains, pasta, rice, and oats) give sustained energy. Eating simple carbohydrates (think simple sugars like fruits, candy, gels, honey, maple syrup) during your ride can offer quick energy boosts.
Protein is needed for muscle repair and recovery. Eat foods like boiled eggs, nut butter, trail mix, and protein bars.
Healthy fats are going to provide a secondary source of long-lasting energy. Nuts, seeds, avocados, and a chia squeeze are all a great option to eat unsaturated fats.
Staying hydrated is essential. Water is crucial, however, biking can lead to the loss of important vitamins and minerals, especially sodium, potassium, and magnesium. You may need electrolytes (bananas, sports drinks, or gel) to replace what you lose through sweat on longer rides.
Fiber intake helps with digestion and keeps your energy levels stable. Grains (e.g., crackers, granola bars, and bread), fruits, and vegetables, are good sources of dietary fiber.
Antioxidants like berries, citrus fruits, apples, carrots, and red grapes, will help reduce oxidative stress from long rides and support good recovery.
Iron transfers oxygen in your blood. Eat iron-rich foods like dried fruit, whole grains, dark chocolate, nuts and seeds.
Calcium and Vitamin D are nutrients needed for bone health. Exposure to sunlight, boiled eggs, and canned fish are good sources of vitamin D. For a good source of calcium, eat yogurt or cheese, roasted chickpeas, almond, and sunflower seeds.
What are electrolytes?
Electrolytes are essential minerals that carry an electric charge and are super important for many body functions including muscle contractions, nerve impulses, and fluid balance.
You lose electrolytes through sweating, so to regain electrolytes during physical activities you can consume electrolyte/sports drinks, gels, and electrolyte tablets.
When should I eat to support my cycle?
Pre-Cycle Nutrition:
2-3 Hours Before: It's important to pre-fuel by eating a meal with lots of carbohydrates, protein, and fat, this will increase your energy to sustain you for the whole ride. Have foods like oatmeal with nut butter, whole grain bread with avocado, or a smoothie with hemp hearts and yogurt.
30 Minutes Before: Eat a snack like a piece of fruit or energy bar to increase your glycogen store and give you energy right away.
During the Ride:
Continual Snacks: To maintain your energy you will need to be consistently fueling your body. Have easy-to-digest foods every 30-60 minutes; this will support your blood sugar levels. You want snacks high in carbohydrates that could also contain electrolytes.
Water + Electrolytes: To stay hydrated while biking, the best way is to continually take sips of water and electrolyte drinks. If it is a hot day or you are sweating a lot, you will need to increase the amount you are drinking.
Post-Cycle Nutrition:
30 minutes after: Have a refuelling strategy for after your ride. This will look like a recovery meal or a bite to eat including carbohydrates and protein to support muscle repair and glycogen replenishment. Have a banana and peanut butter, a smoothie with protein powder, a handful of nuts, or an avocado sandwich.
Hydrate: Keep drinking water and electrolytes, it's important to replace lost fluids and nutrients.
2-5 hours after: To aid in recovery, have a balanced meal that includes lean protein, carbohydrates, and vegetables.
Listen to your body and adjust your nutrition accordingly as we all have different needs. When doing long-distance cycling it's crucial to stay properly fueled and hydrated to maintain your energy and have good performance.
It's a good idea to make a nutrition plan and chat with a nutritionist who specializes in sports nutrition if you want to take your biking to the next level.
Super Quick Low Prep Bike Snacks
These are the easiest snacks to pack along as a source of fuel for a long distance ride:
Fruit Puree Pouch: get ones with chia seeds for more nutrition.
Banana: a fresh banana is a great source of potassium and other essential minerals.
Fresh Fruit: apples, oranges, grapes.
Dried Fruits
Dates. Medjool dates are the best to eat on these trips as they are chewy and plump.
Nut butter: almond butter or peanut butter. Get Justin's in little pouches.
Pistachios and other nuts
Simple PBJ sandwich
Whole grain wrap
Rice cakes and cream cheese
Energy gummies and energy chews
Roasted potato or sweet potatoes
Jerky
Homemade Snack Recipes for Biking
It's easy to rely on energy bars and energy gels for a long ride, but it's great to have a supply of homemade snacks too. Natural food ingredients offer a good variety of macro and micronutrients to support your body on long distances too. Here are the best foods to made and take on your next big ride:
This is a guide with a complete list of ideas to make a trail mix that suits your needs and food preferences. Trail mix is a great source of healthy fats from the nuts and seeds; it provides lasting energy with complex carbohydrates and protein; and it provides quick energy with simple carbohydrates too.
This simple recipe is oats, honey, brown sugar, and coconut oil. Plus there are multiple ways to flavor them to your preference! These bars can be made and stored for a long time before going bad. They are easy to pack along for long-distance rides, for a high-calorie high-energy snack.
These taste like ginger cookies! Each small bite is 4.6 grams of protein. This is a great quick snack to make, and they are perfect to take on a ride.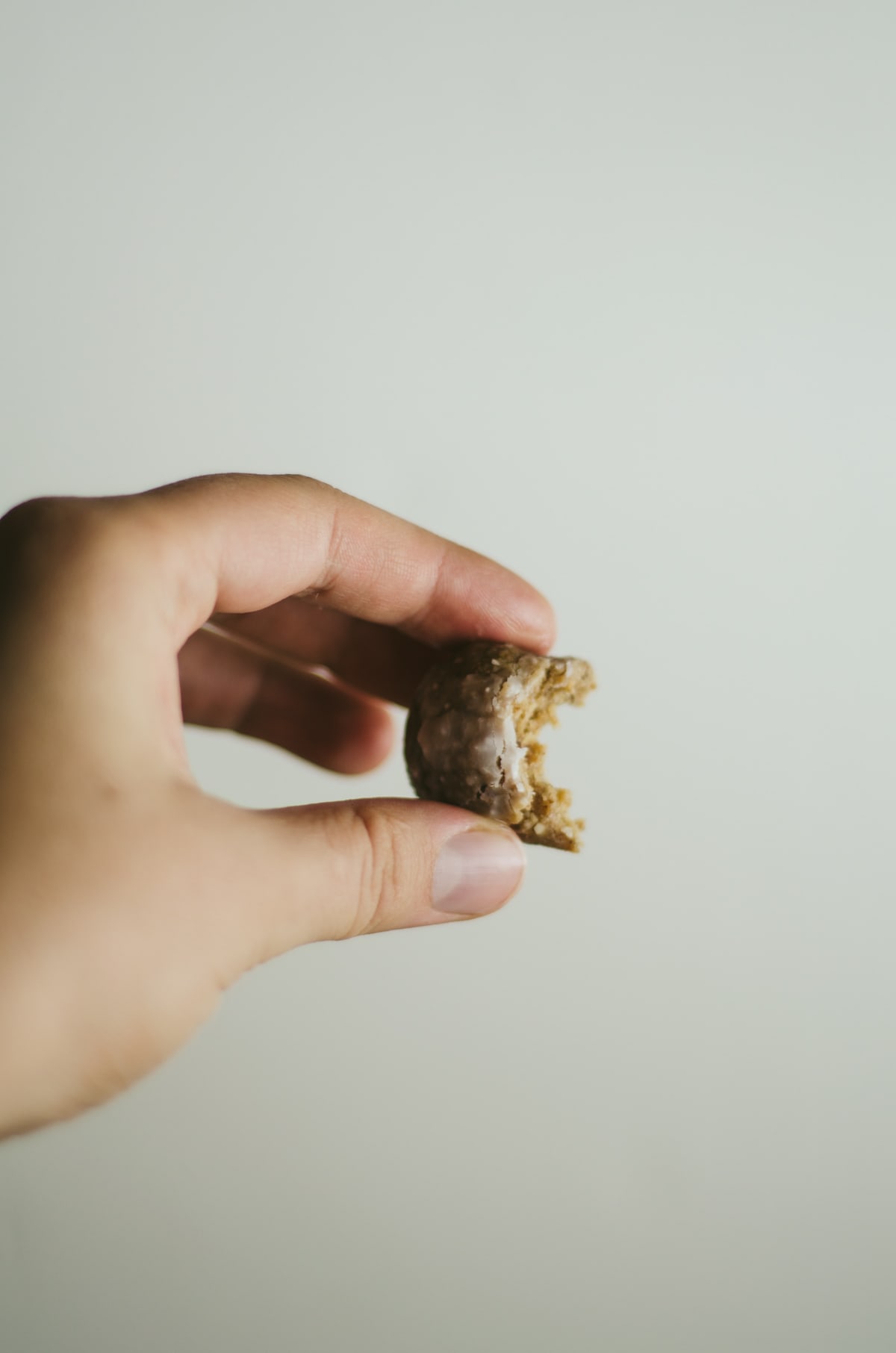 This recipe is for rhubarb strawberry fruit leather, however, the post shares how to make fruit leather with practically any fruit! On a bike packing trip, this could be added to morning oatmeal for some morning fruit, or eaten as a quick source of energy.
Chickpeas are a great source of protein, complex carbohydrates, fiber, antioxidants, iron, and other minerals. Bringing roasted chickpeas on a bike trip makes them lighter and makes them last longer.
This is a super easy energy ball recipe with only pistachios, oats, and dates. They are full of flavour and a great way to quickly consume some complex carbohydrates and protein while on the bike.
Whole wheat is a great source of fiber, protein, and carbohydrates as well as minerals and vitamins. Banana is a source of potassium, sodium, magnesium, and calcium which supports replenishing electrolytes.
These protein bars are easy to make and they taste fresh! High in protein and healthy fat from the hemp hearts and almonds, I think it's one of the best cycling snacks out there. This is a copycat recipe for the popular RX bars. Interested in other high-protein recipes? Here are some ideas.
Where do you store snacks on bike trip?
When biking, store snacks in your top tube bag (bag attached to the bikes top tube) for easy access while riding. If you don't have a tube bag, keep snacks in your jersey pocket.
What should I eat after a long bike ride?
After a bike ride you don't want to wait too long to eat. So, 30 minutes after the ride, eat something like a protein shake, recovery drink, or banana and almond butter. Eat a bigger meal a couple of hours after the bike is finished as well.
Did you find best snacks for your next long bike ride? Let me know in and comments section if there is anything you would add!
More Snack Ideas
Looking for other wholesome recipes? Check out these recipe round ups: