Whether you have a lactose intolerance, are allergic to dairy, or eating a plant-based diet here are the best high-protein dairy-free snack ideas and easy recipes! These snacks will give you lasting energy and sustain you until your next meal.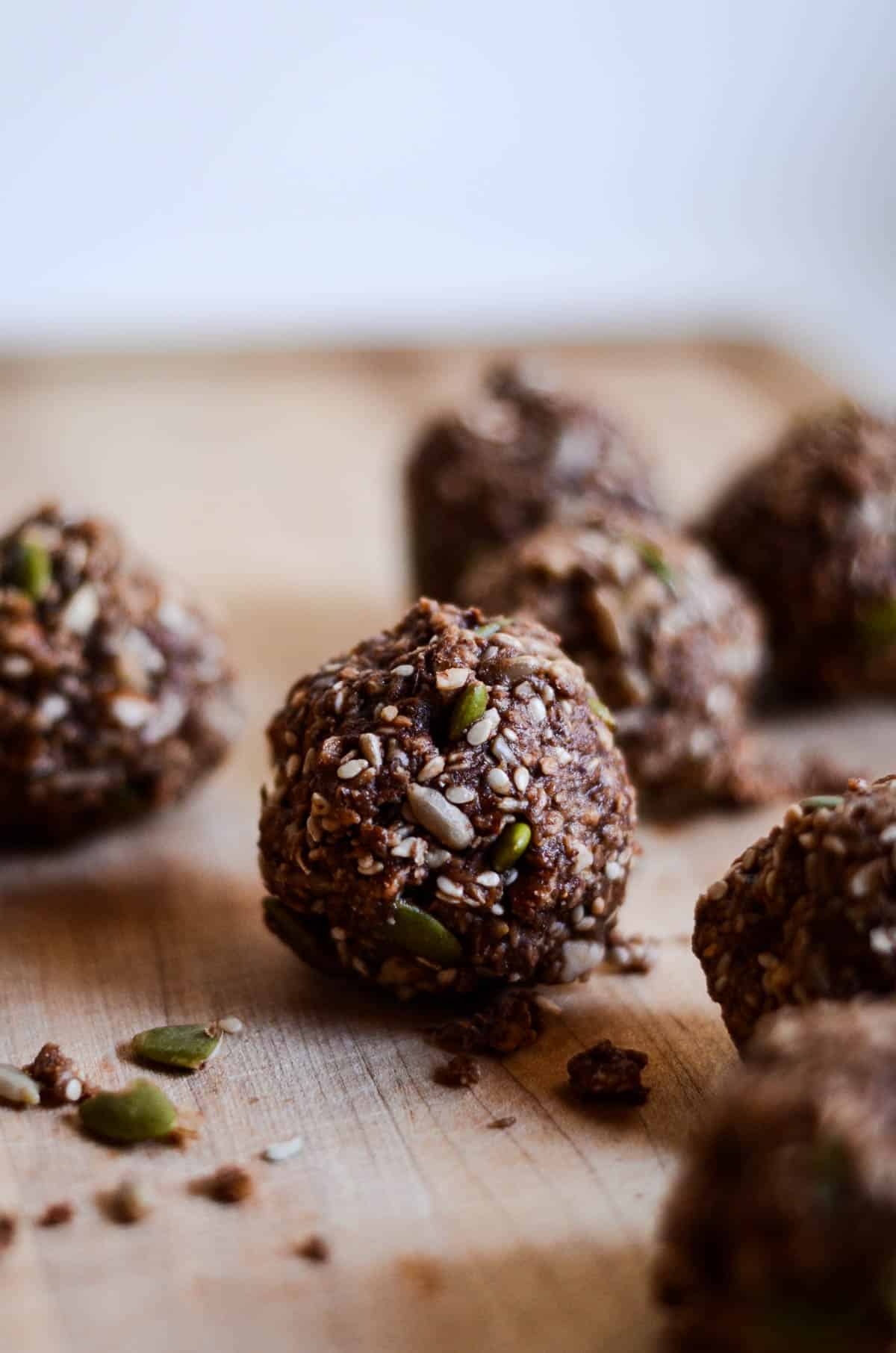 Follow this guide to find your new favorite snack, yes, it will be dairy-free and high in protein! Check out my blog post for the best dairy-free snack ideas that include recipes as well as brands to look for at the grocery store.
Through my schooling in holistic nutrition, I learned how to eat protein from whole food ingredients in my everyday diet and add higher protein foods as needed. I have eaten dairy-free for many periods of my life, years even, here are my favourite dairy-free protein hacks for snack time.
Jump to:
High Protein Foods that Don't have Dairy in them
I have eaten a dairy-free diet for some years due to some digestive reasons. When I was pregnant I specifically focused on dairy-free high-protein snacks. These are some of the foods I included in my diet, as well as some other great ideas!
Nuts and Nut Butter: Almonds, Walnuts, Pistachios, Peanuts,
Almond Flour: Use this in muffins, cookies, and crackers!
Seeds: Pumpkin Seeds, Chia Seeds, Hemp Hearts, Sesame Seeds, Sunflower Seeds
Legumes: Chickpeas, Black Beans, Edamame, White Beans
Soy: Tofu, Soy Milk
Eggs: Boiled, Fried, Baked, Scrambled
Meat: Jerky, Lunch Meat, Meat Cubes, Leftover Dinner Meat
Tuna: Fill a wrap or a fresh bell pepper with flakey tuna
Grains: Rolled Oats, Whole Grain Bread, Sprouted Grains
Quinoa: This grain contains all the essential amino acids!
Plant-based yogurt
On-The-Go Dairy-Free High-Protein Bars
These bars contain a variety of sources of protein such as nuts, seeds, hemp, pea protein, and dried eggs, making them all dairy-free snack bars. Find these wholesome dairy free snacks at your local grocery store:
Larabars
RXBAR
SimplyProtein
Cliff Builders
GoMacro Macrobar
Hemp Yeah! Protein Super Seed Bars
Hungry Buddha Keto Bars
KIND Nut Bars
Tip: Have a sandwich for a snack! Sliver Hills the Big 16 bread has 12 grams of protein per 2 slices! The reason that Sliver Hills bread is so high in protein is that it uses grains that are whole and sprouted. Avocado toast with hemp hearts is one of my go-to whole-food snacks and now that is an easy way to eat a great source of protein!
High-Protein Dairy-Free Snack Recipes
These healthy snack ideas are for those with gut or digestive issues, dairy sensitivity, dairy allergies, and vegans: anyone avoiding dairy. These snacks have at least 5 grams of protein per serving (but usually more).
Savoury High Protein No Dairy Snack Recipes
High-Protein Dairy-Free Snack Recipes with Protein Powder
These recipes have 10 grams or more protein per serving. Protein powder is added to these recipes.
FAQ
I hope you found some new favorite high protein dairy-free snacks! Let me know in the comment down below what you are going to make and eat next!
If you want more healthy snack recipes that are simple stick around, that's what I share here! Or come hang out on instagram! Xx, Danika
Looking for other fun & healthy snack recipes like this to try? Hang out here!