Here you will find a compilation of the best dairy-free snack ideas. Read on to find simple homemade snacks, low to no-prep snack ideas, and how to shop for dairy-free snacks. Let's jump in and make snack time simple!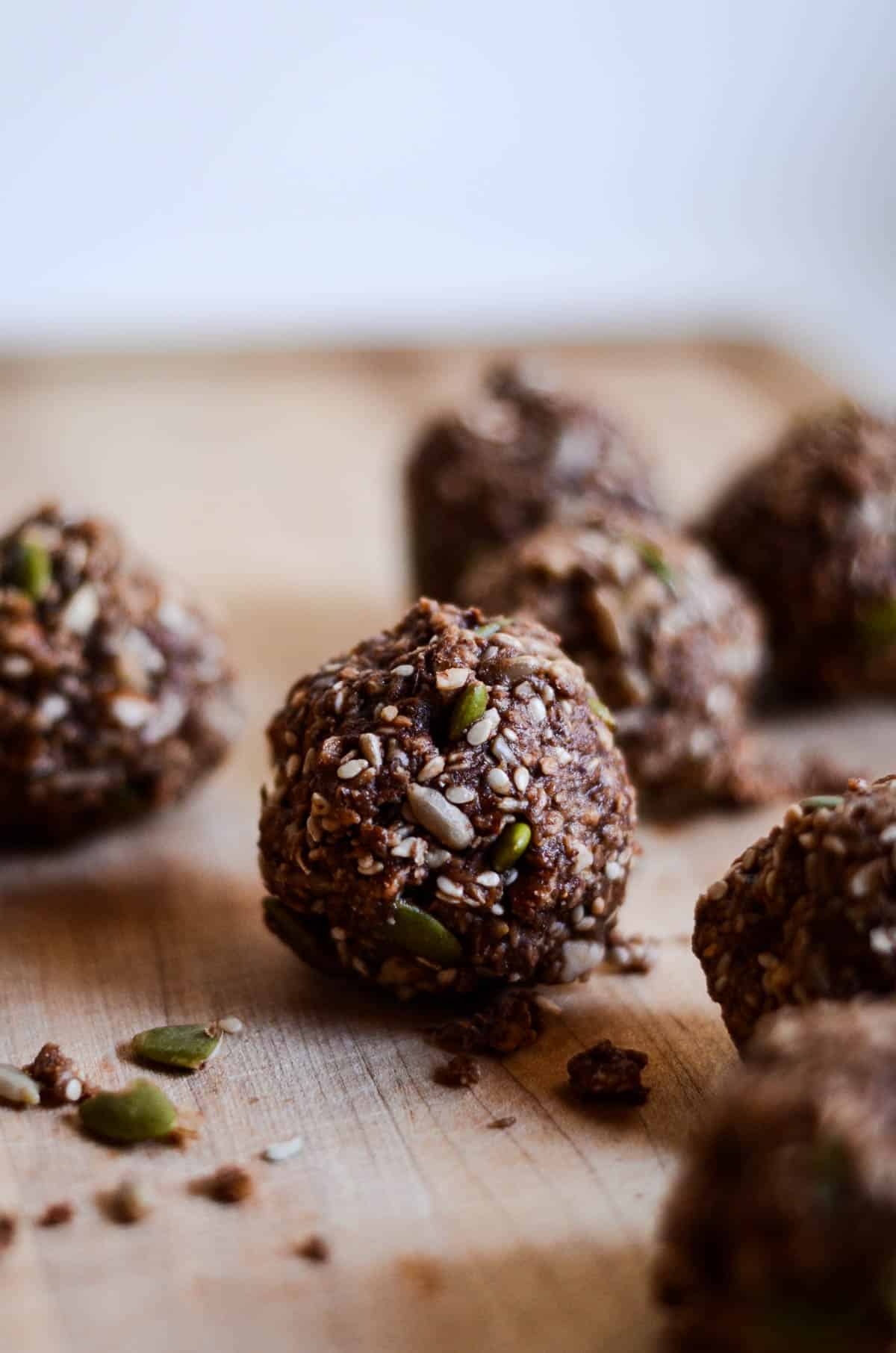 What's a good snack to make without dairy?
Muffins, cookies, crackers, smoothies and egg bites are all yummy foods dairy-free people can eat, see the recipes for these foods below. This post covers healthy snack ideas made with whole food ingredients that do not contain dairy. Use the table of contents below to jump to different categories to find the best dairy-free snack for you.
Jump to:
What does a dairy-free diet mean?
Dairy-free means a person stays away from eating milk, cream, butter, cheese, yogurt, sour cream, buttermilk, sweetened condensed milk, whey protein, or casein. It can differ from person to person what dairy products someone will or can eat depending on their dietary needs.
Why do people eat dairy-free?
Below are the most common situations of why someone will follow a dairy-free diet.
Lactose intolerance means the body has difficulty digesting lactose, which is a sugar found in milk and dairy products. This is a digestive issue (it is not an allergic reaction). Those with this intolerance lack the enzyme called lactase, which is needed to break down lactose into a simple form for absorption.
Dairy allergy is an immune system response to the proteins found in milk and dairy products (usually casein and whey). When those with a dairy allergy eat even a little of these proteins, the immune system reacts, releasing histamines leading to allergic symptoms.
Dairy sensitivity is when a person experiences digestive discomfort, bloating, or other symptoms when eating dairy without being diagnosed with a dairy allergy or with lactose intolerance.
Vegan means due to ethical reasons or personal dietary choices nothing from an animal is eaten no meat, eggs, honey, or dairy.
Dairy-Free Snack Recipes and Ideas
Below you will find no-bake snacks, baked snacks, and savory snacks, all dairy-free. I also included a section with gluten and dairy-free snacks. Just below are quick ideas with little to no prep, follows is dairy free snacks you can buy, then lower down you will see healthy homemade recipes. Find the perfect recipe to make, I want you to know there are lots of healthy snack options!
Store-bought: Best dairy free snack brands
Look for these brands when you are next in your local grocery stores! Many of these brands also have gluten free snacks available. I would consider these all healthy dairy free snacks you can buy.
Larabar: Larabar makes fruit and nut bars with few ingredients, usually just dried fruit, nuts, and dates. They have all kinds of different flavours!
RXBAR: RXBAR has high protein bars made with a short list of real whole ingredients. See all the different flavor options and variety pack options for protein bars here.
Enjoy Life Foods: Enjoy Life specializes in allergen-friendly snacks, including a variety of dairy-free options such as cookies, chocolate bars, and seed and fruit mixes. This is a great brand to get dairy free chocolate chips from. See a list of there products here.
Siete Foods: Makes grain-free tortilla chips and other snacks made from real, wholesome ingredients.
KIND Snacks: KIND has a selection of nut and fruit bars that are generally dairy-free. See all the different bars they offer here.
Bare Snacks: These are baked fruit and veggie chips that are a crunchy, healthy dairy free snack option.
Hippeas: Hippeas makes savory organic chickpea puffs.
MadeGood: MadeGood makes allergy-friendly snacks to go including granola bars, granola minis, and crispy squares. They are known to make products are free from common allergens, I like that their products often have hidden vegetables in them!
That's It: This is a newer brand that sells fruit bars with only 2 ingredients in them.
Dairy-Free Baked Snacks
These are snacks that are easy to make as dairy-free meal prep snacks. They can be made ahead in a big batch and frozen, or made on the weekend to enjoy all week.
Dairy-Free No-Bake Snacks
No-bake dairy-free snacks include things like energy balls, homemade granola bars, smoothies, and popsicles.
Homemade Dairy-Free Savory Snacks
Making savory wholesome dairy-free snacks is easy. Below you will find recipes for crackers, veggie chips, egg bites, and trail mix.
Snacks that are Dairy-Free and Gluten-Free
It is common for those with food allergies such as a dairy allergy to also be eating gluten free diet, have a gluten sensitivity, or even have celiac disease. Here are some more recipes that are simple and healthy yet a dairy and gluten free snack.
FAQ
I hope you enjoyed these wholesome dairy-free snack ideas, and found some good snacks to make. Leave a comment below if you have more ideas to share with other dairy-free readers!
If you want more healthy snack recipes that are simple stick around, that's what I share here! Or come hang out on instagram! Xx, Danika
Looking for other fun & healthy snack recipes like this to try? Hang out here!