Healthy simple ingredients make this strawberry smoothie with dates. It's high in fiber and protein - a perfect snack or meal to start your day. Nutrient packed with flax seeds, almonds, greens (kale), and beets (optional) to fuel your next adventure.
Jump to:
Ingredients
Read about why these smoothie ingredients are nutrient dense and how they support the body below!
See recipe card for quantities.
Tips about dates!
Instructions
Making a smoothie is simple and straightforward. However layering a smoothie, like shown below, ensures good texture and is good practice to take care of the blender blade.
Firstly remove the pits from the dates (if your dates still contain the pit).
Place the soft unfrozen ingredients in the bottom of the blender, dates, bananas, flax seeds, and almonds.
Add the leafy greens next. Then the liquid - milk and water.
Place the beets (if using), and frozen strawberries on top. Then blend well.
Blend the smoothie until there are no more chunks of frozen strawberry. Then pour into cups. Servings: This makes 1 large smoothie, 2 medium smoothies, or 4 small smoothies.
How do you stay full from a smoothie?
This is a question I get asked all the time! To stay full your smoothie needs to be large, and more than just fruit and milk. I personally don't have a protein powder that I use regularly, I choose to add nutrient-dense high protein foods though. Some ideas for filling, nutrient-dense, and high protein include:
If you have a high-powered blender I encourage you to try adding the foods listed above to your smoothies!
If you do not have a high-powered blender your smoothie can may be lumpy or with a grainy texture when adding the ingredients above. Something to try is grinding seeds or nuts in a coffee grinder first and before adding them to your smoothie. Alternatively, you can add more liquid so it can blend better and improve the texture, however, your smoothie won't be as thick.
Protein powders in smoothies can work better when you don't have access to a high-power blender (instead of whole nutrient-dense foods). If this is you, find a powder with few ingredients - the shorter the list usually the cleaner/healthier the ingredients, secondly look for ingredients that you can pronounce. I tried this 1 ingredient organic hemp protein powder and enjoyed it!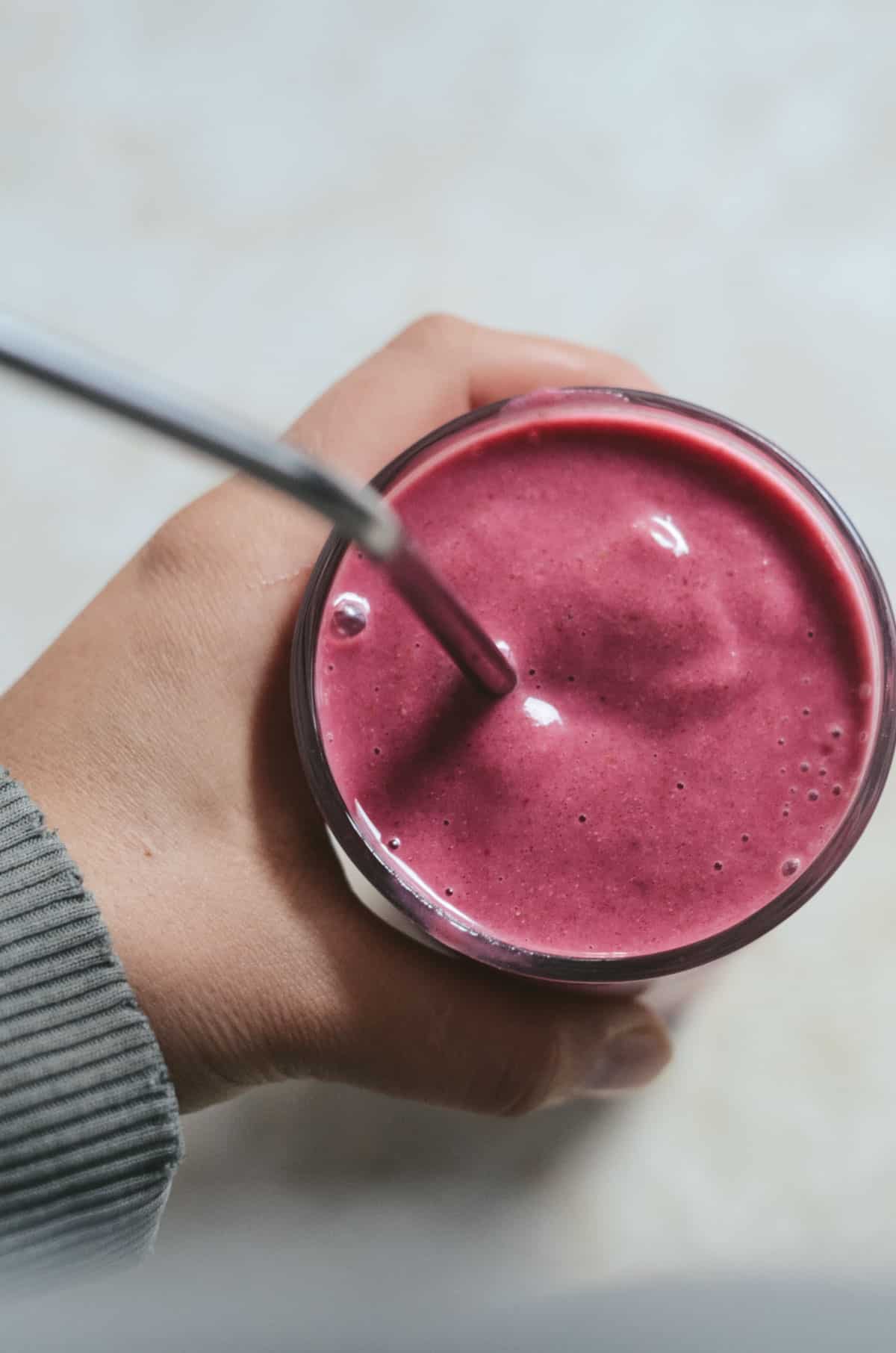 What can I do with leftover smoothie?

If you have leftover smoothie here's two different ways you can use it!

#1 Freeze it into an ice cube tray and add one or two cubes to future smoothies.

#2 Make it into popsicles! I just pour leftover smoothie into a popsicle mold and pop it in the freezer. This is the popsicle mold I like to use.
Can I make smoothie ahead of time?

Yes! There are two ways to prep or batch your smoothie ahead of time. Both ways will last in the freezer for three months.

Freeze the ingredients needed, minus the liquid, for the smoothie together in a bag. Write on the bag what liquid to use and how much to add, so you remeber when you go to make that smoothie. Note that you may need to add a little more liquid to the smoothie when preparing it this way.

Alternativity, make your smoothie, pour it into a jar with a sealing lid, leave at least 1.5 inches at the top (as they can expand in the freezer), and place in the freezer until ready to enjoy it.
Smoothie Rating
I give all my smoothies ratings 1 to 3 for thickness, sweetness, and if they are kid-friendly. For thickness 1 means thin, and 3 means very thick. For sweetness 1 means not very sweet, and 3 means sweet. For kid friendly 1 means not very liked by my toddler, and 3 means very liked by my toddler, (this rating often depends on the flavor and texture, and color).
Thickness: 2
Sweetness: 2
Kid Friendly: 3 The optional beet ingredient is worth putting in because the bright color increases the chances of the kids liking it! The beet has a subtle taste and you don't realize it's there unless you know you put it in!
I wanna hear how you enjoyed this smoothie!! Please take 10 seconds to let me know just down below.
Strawberry Smoothie with Dates
Healthy simple ingredients make this strawberry smoothie high in protein - a perfect snack or meal to start your day. Sweet strawberries, bananas, and dates make a delicious flavor. Nutrient packed with flax seeds, almonds, greens (kale), and beets (optional) to fuel your next adventure.
Ingredients
3

large dates

I used medjool dates

1

tablespoon

flax seeds

2

bananas

¼

cup

almonds

1

large leaf kale (or 1 cup leafy greens)

1

cup

milk

I used almond milk

1

cup

water

3

cups

frozen strawberries

⅓

cup

beets cooked optional*

I buy frozen cooked sliced beets
Instructions
If there are pits in your dates, remove them.

Place the dates, flax seeds, bananas, and almonds into the blender. Add the milk and water on top.

Then place the beets (if using) and frozen strawberries in the blender container. Secure lid and blend until evrything is smooth and there are no frozen chunks of strawberries.

This makes about 5 ½ cups of smoothie. Pour into 1 large cup, 2 medium cups, or 4 small cups. Enjoy!
Notes
*Beets are optional but make the smoothie a bright pink color and increase the nutrition of this smoothie. I buy pre-cooked and sliced beets in the frozen vegetable section of the grocery store (Presidents Choice brand). 
If you don't have a high power blender, you can grind the almond and flax seeds in a coffee grinder before adding them to make a nicer texture