Dragon fruit popsicles not only look beautiful with their bright purple color, but they are also made with simple healthy ingredients and are so easy to make! This is a perfect 4 ingredient cold treat to make for those hot summer days.
Why you will love these popsicles
Dragon fruit popsicles are bright pink! It's so fun to eat bright-coloured tropical dragon fruit, just like this pink dragon fruit banana smoothie.
You only need ten minutes to prep this recipe!
It's made with 4 simple ingredients
These popsicles are the perfect HEALTHY cold summer treat, loved by kids and adults
Jump to:
Ingredients
Like always I try to make my recipes with ingredients that you can easily access or can find in the grocery store. See the details below about where you can get these ingredients.
Frozen Dragon Fruit (Pitaya): I used frozen red (or purple) dragon fruit. I bought it in a mixed pack of tropical fruit from Real Canadian Super Store and picked out the dragon fruit.
Frozen Pineapple: This increases the flavour and makes these popsicles super and tropical tasting!
Lemon Juice OR Passion Fruit: In the frozen fruit mix I bought the dragon fruit comes with frozen passion fruit, if you are using that same mix - use that! If you aren't able to get passion fruit you can use lemon juice to add a similar burst of flavour! I recommend adding 1-2 tablespoons of honey if you don't have passion fruit.
Canned Coconut Milk: You are going to want premium coconut milk for this, as it makes these popsicles creamier! You only use the top part of the can - the thick white part (use the other part, coconut water, for a smoothie!)
This is not a sponsored post, but I am sharing the photo of the package below because I want to show where I get my frozen fruit, specifically the dragon fruit for this recipe.
How to Make Easy Dragon Fruit Popsicles
These frozen treats are super easy to prepare, the hardest part is waiting for them to freeze! Follow these easy steps to make your own healthy purple popsicles! For details on quantities look at the recipe card below.
Place all the ingredients in the blender. If you don't have a high power blender, let the frozen fruit thaw 10-20 minutes before blending.
Blend everything together until fully smooth and purple!
Fill up the popsicle mold. I filled 5 popsicles that are ⅓ cup each. Place in the freezer for 5-8 hours to solidify.
Remove from the freezer and let sit 5 minutes before enjoying!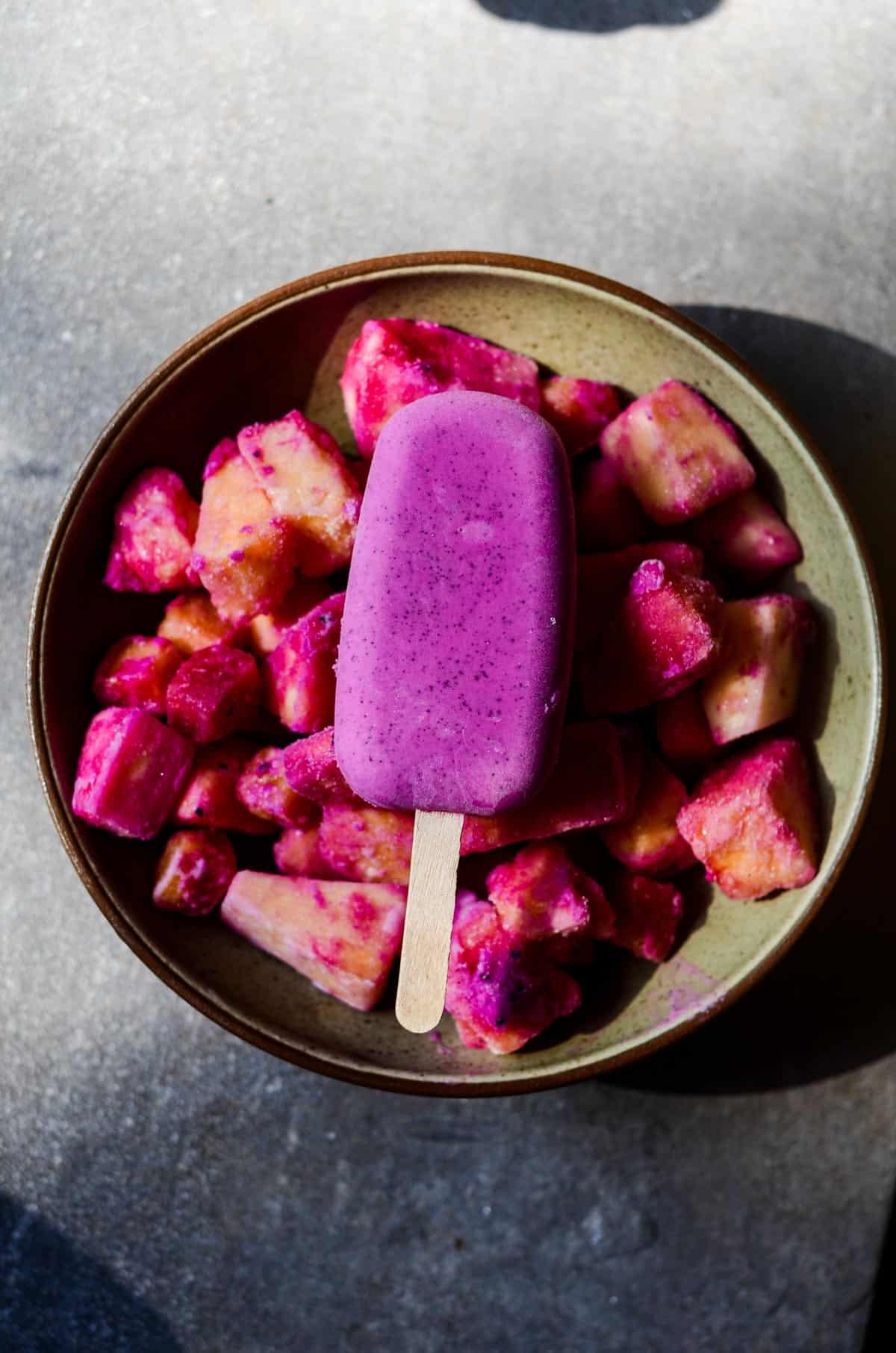 Equipment
Blender: To make this recipe you need to blend the ingredients together to make a smooth liquid before freezing it. If your blender struggles to blend, let the fruit thaw until it is softer for 10-20 minutes first.
Popsicle Mold: I like to use silicone popsicle molds because they are super easy to get the popsicle out of the form. When using a silicone mold I put it on a tray before placing it in the freezer. If you don't have a popsicle mold you could use:
rinsed out yogurt cups
a large ice cube tray
Dixie cups or small cups
muffin tin with silicone liners
To use any of these, pour the popsicle mixture in the container, cover it with tin foil, then poke a popsicle stick through the tin foil to keep it in place.
More about Dragon Fruit
Did you know this fruit grows from different cactus? It does! Some call dragon fruit: pitaya or strawberry pear! It can have a pink or yellow outside that looks like a bulb with little spike-like leaves that look like flames around it. The fruit has a white or red (purple!) inside with little black seeds (comparable to kiwi seeds, and even can taste like kiwi!). As it is native to Central America it can be hard to get around the world, however, it is cultivated in tropical locations. It is easier to buy fresh white flesh dragon fruit in the produce section, the pink fruit frozen, or as a pink powder in North America.
Dragon Fruit Nutrition
The key health benefits of dragon fruit are:
High in fibre, supporting the digestive tract and bowel movements.
High in anti-inflammatory antioxidants, which is going to support free radical damage and aging.
Supports the immune system as a good source of vitamin C.
The fruit contains prebiotics which is a food that feeds the good bacteria, probiotics, in your intestines.
It's awesome for your health to have a large diversity of plants and foods in your diet, therefore, choose to eat dragon fruit from time to time!
FAQ
Where can I buy red or purple dragon fruit?
You can buy red or purple dragon fruit from a couple of different stores in Canada and US. Purple or red fruit can be found in the freezer section of Costco (US), Real Canadian Super Store (in a mix), or from Spud (CAN lower mainland or Calgary). It's often common to find dragon fruit in the produce section, however usually it's the bright pink fruit with white inside not the purple or red inside. Alternatively, you can buy dragon fruit or pitaya as a pink powder.
What does dragon fruit taste like?
The taste of a dragon fruit is subtle, it is like a kiwi combine with a pear and a little burst of tropical. The taste can vary slightly depending on the colour of the dragon fruit (white, red, or yellow).
Other No Bake Treats
Looking for other snacks that you don't need to use the oven for? Try these:
Did you make these easy dragon fruit popsicles? Take a picture and share it on Instagram & tag @besidethemountain. I love to see my recipes being made, it totally makes my day!
Easy Dragon Fruit Popsicles
Dragon fruit popsicles not only look beautiful with their bright purple color, but they are also made with simple healthy ingredients and are so easy to make! This is a perfect 4 ingredient cold treat to make for those hot summer days.
Ingredients
1

cup

frozen pineapple

¼

cup

passion fruit

frozen or fresh OR 1.5 tablespoon lemon juice and 2 tablespoon honey

1

cup

premium canned coconut milk

full fat thick white part at the top of the can
Instructions
Place everything in the blender, blend until smooth. (If your blender is not able to blend this frozen fruit, wait until it thaws a little bit, 10-20 minutes, then blend.)

Pour smooth purple mix into a popsicle mold. After 1 hour add popsicle sticks to keep them in place. Freeze at least 5 hours to overnight until solid. Then take the popsicle out of the freezer 5 minutes before eating to soften. Enjoy!
Notes
Notes:
If you live in Canada buy the PC choice tropical mix from Real Canadian Super Store with the dragon fruit, pineapple, and passion fruit to use for this recipe.
I wanted to make it so you can make this recipe even if you aren't able to find passion fruit. Therefore you can use 1.5 tablespoon of lemon and 2 tablespoon of honey to replace it.
Nutrition
Calories:
167
kcal
Carbohydrates:
14
g
Protein:
2
g
Fat:
12
g
Saturated Fat:
10
g
Polyunsaturated Fat:
0.2
g
Monounsaturated Fat:
0.5
g
Sodium:
39
mg
Potassium:
203
mg
Fiber:
3
g
Sugar:
10
g
Vitamin A:
169
IU
Vitamin C:
21
mg
Calcium:
13
mg
Iron:
2
mg